The Benefit of Psychotherapy in Autism
April 20 @ 10:00 am

-

11:00 am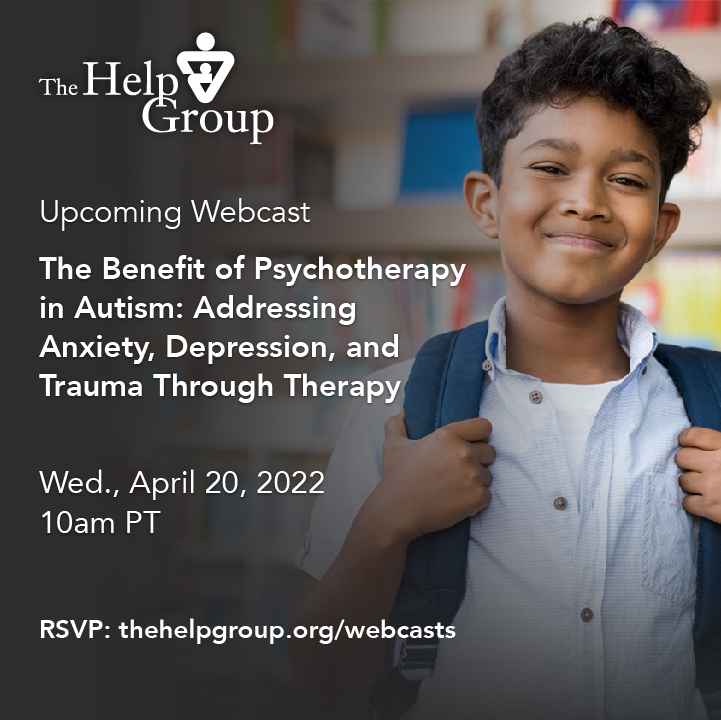 Upcoming Webcast: The Benefit of Psychotherapy in Autism: Addressing Anxiety, Depression, and Trauma Through Therapy
Learn the latest research and innovative therapies for helping autistic youth cope with mental health challenges.
DATE: Wed, April 20, 2022
TIME: 10:00 AM – 11:00 AM PDT
ABOUT:
April is Autism Acceptance Month, and we have an important topic that we'd like to cover this month. Recent statistics show that about 75% of autistic children have a comorbid mental health challenge, and nearly 50% have two or more comorbid mental health challenges. Common conditions include anxiety, depression/mood disorders, ADHD and OCD.
This webcast is designed to present the latest research on mental health issues in autism spectrum disorder and to provide information on the latest and most innovative therapies for helping autistic youth and their parents cope with these challenges. We'll hear from an autistic young adult what was most beneficial in therapy for them and also a parent's perspective on how therapy helped their child.
Takeaways:
The benefits of therapy for autistic youth
How therapy does not make a person "non-autistic" but rather provides the coping skills and life tools to deal with everyday stressors and emotional upsets
Specific intervention tools for use in the therapy room and more generalized environments
Expert Speakers:
Jason Bolton, PsyD (moderator) – VP of Community Partnerships & Admissions at The Help Group
Laurie Stephens, PhD – Sr. Director of Autism and LGBTQIA+ Programs at The Help Group
Syd F. – Autistic young adult who has participated in individual play and psychotherapy beginning at age 10
Deborah F. – Art Advocate & Syd's mother
Having issues registering? Please contact Melissa for assistance at 818-947-5542 or mshapin@thehelpgroup.org.
Related Events