Advance LA's 2014 Day for Young Adults was a big success. Held on July 19th at AJU in Los Angeles, the one-of-a-kind event, designed specifically for teens and young adults, featured interactive workshops that provided attendees with the opportunity to practice new skills and interact with peers while learning transition skills, sparking passions and cultivating new relationships.
The event drew 115 young adults attendees, ages 16 to 29 years old. Participants enjoyed workshops on topics such as getting organized and college preparation and success, as well as learning new skills such as mindful awareness through yoga and beginning robotics. The ice cream social and dance party gave participants a great festive way to end the afternoon.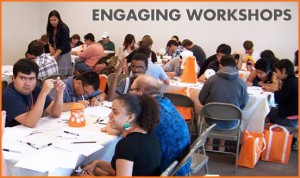 Over 50 parents joined us for one of the two offered support groups and shared their experiences and ideas for future Advance LA programs. Parents seemed to enjoy connecting with each other as well. "AWESOME Event today! My son really enjoyed it. I learned quite a bit, too, and was also able to help some others", commented one parent. "I am very, very pleased with everything that went on today. Job well done!"
The Day for Young Adults proved once again to be a meaningful experience for our older teens and young adults. Hoping to make social connections while learning something new, the attendees left the day with smiles on their faces, phone numbers of new friends and an array of useful tools to foster their independence.