Advance LA 2012 Conference
prep. launch. elevate.
Advance LA's first annual conference prep.launch.elevate: Supporting Teens & Young Adults in their Transition to Independence was a groundbreaking event. Held on May 11th at the American Jewish University in Los Angeles, the conference featured more than 20 leading experts who presented the latest breakthroughs and best practices in supporting young adults in their transition to independence.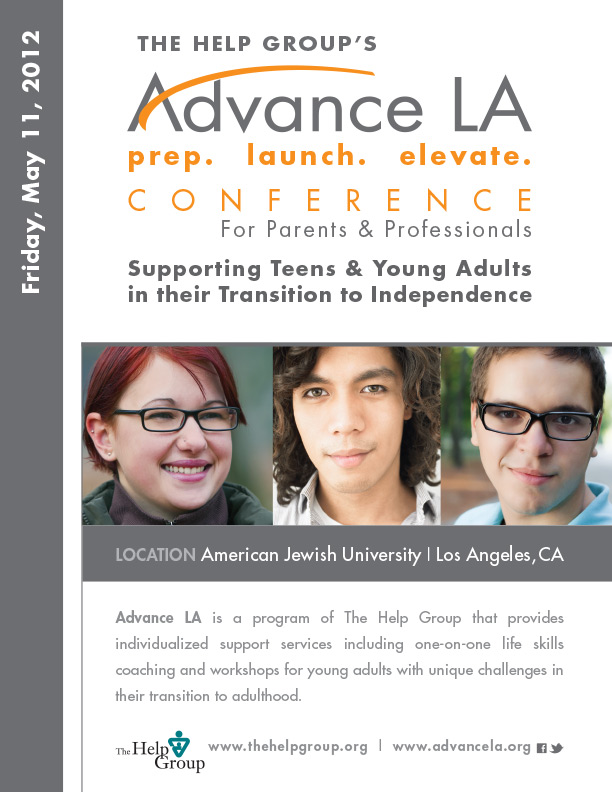 Conference attendees gained a great deal of knowledge from dynamic speakers, researchers and educators, all of whom are on the cutting edge of advancing the independence of young people with Autism, Asperger's Disorder, Attention Deficit Hyperactivity Disorder (ADHD), Executive Functioning Difficulties, Learning Disabilities, and Mental Health Issues including Dual Diagnosis and Recover from Substance Abuse.
Featured Speakers included:
Elisha Goldstein, PhD
Sarita Freedman, PhD
Peter Gerhardt, EdD, BCBA
Richard Guare, PhD, D-BCBA
Colin Guare
Lou Vismara, MD
Danielle Heck
Jodi Johnson, MEd
Harvey Lapin, DDS
Liz Laugeson, PsyD
Lars Perner, PhD
Jeff Ross, MA
Ellen Weiss-Phelps, PhD
Susan Berman, PhD
Barbara Firestone, PhD
Amy-Jane Griffiths, PhD
Frank Shapiro, MFT
Jason Bolton, PsyD
The conference drew 350 attendees, comprised of parents, researchers, healthcare professionals and teachers. Participants learned about evidence-based practices and approaches related to a range of topics, including executive-functioning skills, improving quality of life, mindfulness, parenting during transition, sexuality instruction, social skills, substance abuse, as well as college and employment.
The conference was especially meaningful to parents, who found practical solutions for preparing their children for life after high school. "The Advance LA Conferenceprovided the best, most encouraging information I have heard so far," said a father who attended the conference. "I was so impressed with all of the speakers, and it was great to meet and see so many parents that are in the same situation."
One key theme of the conference was the importance of transforming young lives by focusing on strengths and abilities. During the luncheon, parents David Wyles and Judith Feldman spoke candidly about how their son, Rio Wyles, had encouraged them to "dream big," on his behalf, something they had almost forgotten to do after his Autism diagnosis. The audience was treated to a performance by Rio, a rapper and composer whose star is rising in the music industry.
Brought together by the common goal of transitioning children to greater levels of independence, attendees left with a stronger understanding of how to make a rewarding life a reality.