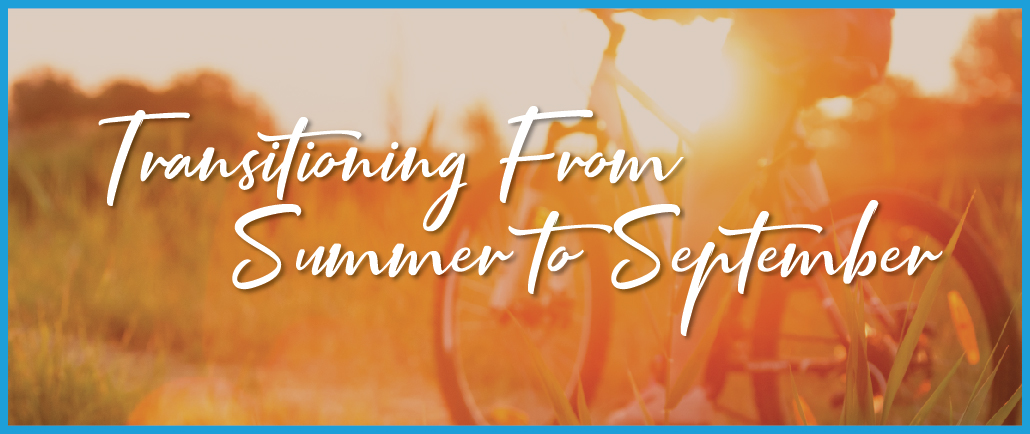 Transitioning From Summer To September
American Professor Brene Brown summed up September with this famous quote,
"In many ways, September feels like the busiest time of the year: The kids go back to school, work piles up after the summer's dog days, and Thanksgiving is suddenly upon us."
September can often feel overwhelmingly busy after the lazy months of summer. Many of us find it challenging to transition back to September's schedules, obligations and stress.
One coping strategy to help ease your way into September is to schedule a 30 minute "Summer Diversion" into your day. A diversion is the act of switching your focus to something else for a short time period. Yes, the source of your stress will still exist but for your 30 minute diversion, your focus will be on something else. And, hopefully, after your diversion, you will feel re-energized and able to tackle September.
Here are some suggestions for a 30 minute Summer Diversion:
go for a walk
read a book
listen to music
clean out a cluttered drawer
do some gardening
draw or paint
bake a batch of cookies
go for a bike ride
write or journal
call a friend
go for a swim
play with your pet
Another coping strategy is to practice deep breathing. This is a simple technique that is excellent for managing emotions. Not only is deep breathing really effective, it is also discreet so you can use this strategy at any time or place.
To practice deep breathing, find a comfortable place to sit and then place one hand on your abdomen. Breathe in through your nose, deeply enough that you feel the hand on your abdomen rise. Hold the air in your lungs, and then exhale slowly through your mouth as if you are blowing through a straw. The secret is to go slow: inhale for 4 seconds, pause, and then exhale for 6 seconds. Practice deep breathing for about 5 minutes.
One last suggestion is to listen to the clues that your body is giving you that let you know you are beginning to feel overwhelmed. Examples of the clues your body may be giving you that show you are feeling overwhelmed are excessively sweating, the start of a headache, feeling argumentative, feeling like you just want to "shut down" or feeling a bit nauseous. When you learn to spot your warning signs, you can take your 30 minute Summer Diversion before you feel like you are losing control.
We all may feel a bit wistful when summer comes to an end and September begins.
But if it is of any relief, September is the official start of pumpkin spice latte season!