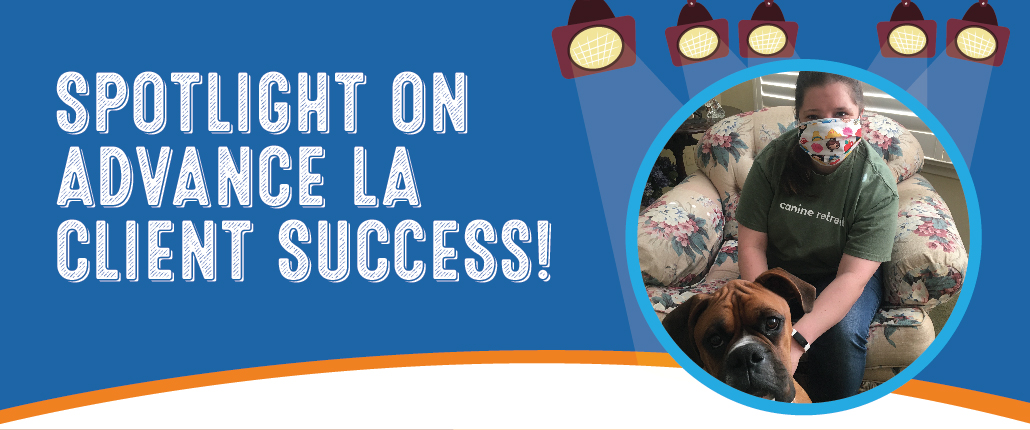 Spotlight On
Advance LA Client Success!
Christina is a wonder! She began working with the Advance LA Life Skills Coaching Program last summer. Due to Christina's dedication and motivation, she is making great strides toward meeting her goals of improved health/wellness and learning independent living skills.
Christina initially made the decision to work with a Life Skills Coach because, "I began to feel depressed when Covid hit and my mom suggested that I meet with someone that I could talk to and work on meeting my goals." When Christina first met with her Life Skills Coach, Sophia Saraie, the two hit it off immediately. Christina says, "I liked working with Sophia from the first time we met. She makes sure our sessions are fun and she always makes me laugh!" But being a client at Advance LA is not just about fun. Christina has worked very hard at improving herself and her dedication has paid off.
When Christina started with Advance LA, she wanted to improve her personal grooming regimen without needing reminders. Sophia helped Christina to create a series of alarm notices on her phone, in addition to Sophia's text reminders, so that Christina could recall what she needed to accomplish. Christina no longer needs reminders and she now has an effective and independently initiated self-care routine. Christina consistently shows up for her coaching sessions in clean clothes and with a well-groomed appearance. All of those who interact with Christina can see she is very pleased with her appearance and her new self-care skills.
Christina is making steady progress toward her goal of independent living. Sophia taught Christina how to break down seemingly overwhelming tasks, such as keeping her room clean, into smaller, more doable tasks. For example, Christina started out working on one task for fifteen minutes and she has now increased her ability to focus for longer increments of time. She now regularly changes her bed linens, organizes her shelves and her desk, vacuums her rug, and competently does her own laundry. Christina says, "My goal was also to keep my room clean and I have made huge progress with that goal. It makes me feel good about myself."
Sophia and Christina make exercise a regular part of their sessions as a means of achieving Christina's health and wellness goals. Due to the pandemic, Christina could no longer go to the gym. To compensate, Sophia and Christina exercise by taking an online yoga or cardio workout together twice a week. Christina is very proud of her improved strength and physical fitness saying, "I feel better about myself because coaching helps improve my health. With coaching, I have been able to work on my goal of doing more exercise. Me and Sophia take yoga classes together and I like having someone to work out with."
Christina has also enrolled in the Spring and Fall ALA Virtual Cooking Classes and said, "I loved doing the ALA cooking class! I learned how to make new recipes and plan meals. I was so proud that I sent Advance LA photos of the food I made! It was fun and educational." Christina learned how to make a grocery list, shop for ingredients, and follow recipes step-by-step. She was a standout in the cooking class due to her positive attitude and competence. She excelled so much that she has been asked to be a teaching assistant for the cooking class when it is next offered. Christina now knows how to prepare a meal that has an entree, side dish and dessert.
Christina feels good about her experience as a client with Advance LA.  She recommends the Advance LA Life Skills Coaching Program to other young adults saying, "Coaching is helping me in a lot of ways and I know it will help other people."
Sophia is so pleased with Christina's progress and says, "Christina is an amazing young woman. I am so impressed with her perseverance and determination to meet her goals.
She is a delight to work with and I enjoy our sessions together due to her positive attitude and willingness to learn new life skills strategies and skills."
Christina is a valued member of the Advance LA community and we are so proud of her hard work and the progress she is making toward achieving her goals.
Advance LA Life Skills Coaches help their clients with academics, executive functioning, time management, organization, social engagement, job obtainment, and health/wellness.
Jeri Rochman, JD, MS
Jeri Rochman, JD, MS, is the Advance LA Director of Community Outreach, a Life Skills Coach, National Board Certified Counselor and Certified Parent Educator. Interested in learning more about Advance LA's services?